Special Diets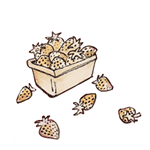 Sometimes our loved ones or good friends can't eat just anything that's on their plates.
I, for one, have had direct experience with adapting my cooking for my love, Jim, who was diagnosed with Celiac Disease 4 years ago. It is a severe gluten intolerance. And sadly, gluten is present in wheat, oats, barley, and hops. Translation - no pasta, no bread, no cookies and cakes as I know them. Lucky for you, I have adapted many of my recipes so Jim can eat them.
Here's a little secret - some recipes and foods are gluten-free by nature such as risotto. Check out my lobster risotto, asparagus risotto and roasted heirloom tomato risotto. Risotto is made from aborio rice and ALL rice is gluten-free. Do you love breaded cutlets? Try using cornflakes as your "bread" and you won't go missing breaded chicken cutlets ever again!!
I am also working with a nutritionist, Nancy Mills to develop diabetic-friendly heirloom recipes. Diabetes is a growing national epidemic. My first-hand experience with this disease was through my grandmother. So it's a disease I really want to help people deal with!
First order of business with a diabetes diet - avoid most WHITE foods - white rice, white bread, white potatoes and of course, sugar. Think color and texture. As for desserts - we'll explore using honey, maple syrup and maybe, stevia.