Zucchini Boats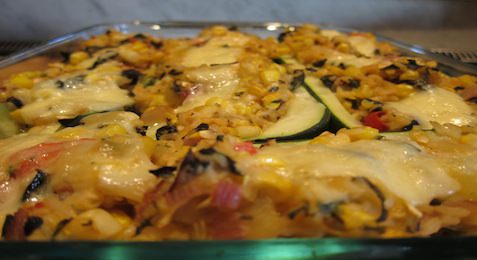 Ingredients
2

large overgrown zucchini bats, cut in half lengthwise, meat removed

3 tbsp

olive oil

1

large red onion, chopped

cubed "meat" of zucchini

1 bunch

Rainbow Swiss Chard

3-4 ears of corn

kernels, cooked

1 pint

cherry tomatoes, halved

1 tbsp

tarragon, minced

1 tbsp

basil, minced Or any fresh herbs from your garden

2 cups

Rice, cooked

1/2 cup

parmesan cheese, grated

salt & pepper to taste

2 cups

cheddar, grated
Directions
Preheat oven to 350 degrees. Place your carved out zucchini shells in a baking dish with some water and cover with tin foil. Put in oven to cook while preparing your filling.
Heat your olive oil in a large skillet on medium heat. Saute onions until soft.
Add the zucchini "meat" and cook until soft.
Next add your swiss chard and sauté until wilted.
Add your corn, cherry tomatoes, herbs and rice. Mix well and sauté for a couple of minutes.
Remove from heat and add the parmesan cheese, salt and pepper.
Remove the zucchini shells from oven and pour off most of the water that remains in the baking dish.
Spoon the filling into the "boats" and scatter the cheddar cheese on top.
Bake for 20 minutes until bubbling and cheese is melted and golden.
Serve immediately as a side or as the main coarse with a tomato salad and ENJOY!!
Prep time:

40 minutes

Cook time:

40 minutes

Total time:

1 hour & 30 minutes
Yield: 6-8 servings