Hummus at home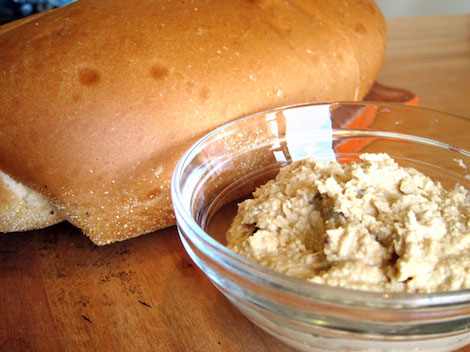 Ingredients
2 cans

Garbanzo Beans "Chick Peas" (usually 15.5 oz weight)

2

cloves of garlic chopped

1 1/2 tsp

ground cumin

2 tbsp

Tahini (Sesame Seed Paste)

1-2 lemon

juice

2 tbsp

soy sauce

1/8 tsp

sea salt

1/8 tsp

ground pepper

2 tbsp

olive oil

water to thin
Garnish with one or more: Ingredients
2 tbsp

Fresh Parsley for garnish

1/2 tsp

Cayenne Pepper for garnish

1/4 tsp

Paprika for garnish

2 tbsp

olive oil
Directions
Drain, wash and re-drain the garbanzo beans.
Place all the above ingredients into a food processor. Turn on for 1 to 2 minutes adding water in small quantities until the hummus flows smoothly (about 2-3 ounces).
Turn off the food processor, scrap the edges and let it run for a 30 seconds to a minutes. Let sit for about a day to set.
Prep time:

30 minutes

Total time:

30 minutes
Yield: 15-20 servings