On The Air
Heirloom Meals Radio is on NPR every weekend. Tune in to WHDD 91.9 FM or AM 1020. 5 p.m. on Saturday and 6:30 a.m. on Sunday.
Carole has hosted Ruth Reichl, Frank Bruni, Deborah Madison, Myra Goodman and many friends and acquaintances who are willing to share their family history and dish out some tips and recipes.
Video & TV
Watch Carole cook up heirloom meals with the help of the Morning Show team at Newschannel13 in Albany.
All the recipe details can be found in our Recipes database.
After the success of our two public television specials, Heirloom Meals Thanksgiving and Heirloom Meals Christmas, we are actively soliciting sponosrs for a weekly series for public television. Interested sponsors, please email us for a sponsor benefit package.
Check out our sizzle reel: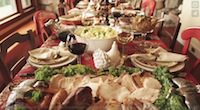 Up Next
Newschannel 13
Carole is scheduled to appear on February 22nd, March 29th, May 10th, and June13th - she'll demo some comfort food, spring delights and maybe one of her Dad's favorite heirloom recipes. Be sure to check out the video section for the demo if you miss the live show!!
Radio to Go
Going on a long trip? Or just to the dentist? Take us with you! Download any of our shows via iTunes for free (works with PCs and Macs). iTunes also lets you subscribe to the show so that you automatically receive each new show after it's aired.
Want to be a guest on the show? Have a favorite chef you'd like to hear from? Let us know and we will do our best to make it happen.