Lemon-Glazed Gluten Free Cupcakes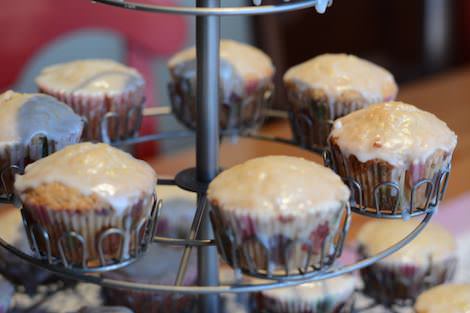 Ingredients
1 1/2 cups

Organic Cane Sugar

1/2 cup

Organic Coconut Oil

4

Eggs

1 Tbsp

Vanilla

1/2 tsp

Fiori di Sicilia

3 cups

Gluten Free Flour (I use King Arthur Flour)

1/2 tsp

Sea Salt

1 cup

Unsweetened Vanilla Almond Milk
Lemon Glaze Ingredients
2 Lemons

Juice

1 Lemon

Zest

2 cups +/-

Confectioner's Sugar
Cupcakes Directions
Cream the coconut oil with the sugar in a large bowl by hand or with an electric mixer.
Add the eggs, vanilla and Fiori di Sicilia and blend until smooth.
In a separate bowl, whisk the flour, baking powder and sea salt together.
Slowly add the flour mixture to the sugar mixture and then the almond milk until all is fully incorporated.
Line the muffin pan with paper liners (look for fun ones), or butter the pan, if you prefer.
Spoon the batter into the liners about 2/3 full.
Bake in center and top racks, if using 2 muffin tins, and then switch racks after 7 minutes and bake until golden, another 6-8 minutes.
Remove from oven and cool on a rack.
Glaze Directions
Mix all three ingredients until smooth. If it feels too stiff, add a touch more of lemon juice.
To glaze: dip the top of the cupcake into the glaze and then decide how you are going to eat it!!
Prep time:

10-15 minutes

Cook time:

12-15 minutes

Total time:

30-40 minutes
Yield: 24 cupcakes