Cauliflower, Bacon and Onion Pasta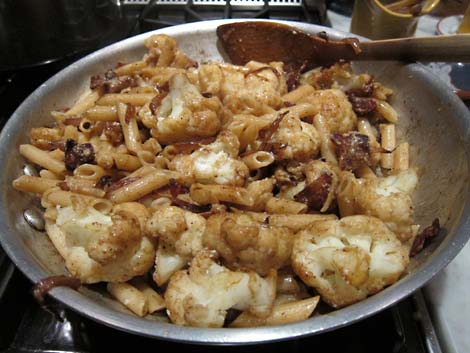 Ingredients
1

Cauliflower head, washed and divided into florets

2

Onions, sliced

1 lb

bacon, cut into one inch pieces

1 lb

pasta - pick your favorite shape or gluten-free

Pecorino Romano or Parmesan - whichever you prefer
Directions
Simultaneously, boil a large pot of water and begin sauteing the bacon and onions in a large frying pan on medium high heat.
The bacon and onions will cook nicely together and each become browned and caramelized.
In the boiling water, add the pasta and cook for a few minutes, then add cauliflower for last 5 minutes of cooking the pasta.
This saves you from boiling 2 pots of water.
Strain the water but reserve some of the liquid. Add the cauliflower and pasta to the frying pan and some of your reserved liquid to both deglaze the pan and create a creamy sauce.
Add a generous amount of cheese and serve with a side salad.
Prep time:

20

Cook time:

30 minutes

Total time:

50 minutes
Yield: Serves 4-6 depending on how hungry you are.