Heart Healthy Muffins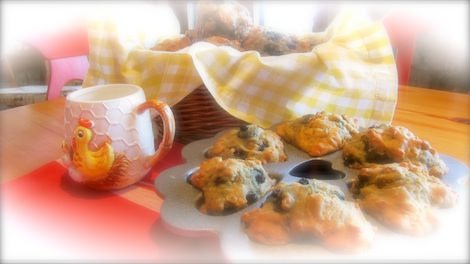 Ingredients
4 cups

low fat buttermilk

2

eggs

1 cup

walnut oil

1 cup

brown sugar

1 tsp

vanilla

1 tbsp

baking soda

1 tsp

salt

2 1/2 cups

oat bran flakes

2 1/2 cups

oats

5 cups

King Arthur White Whole Wheat flour

2-2 1/2 cups

blueberries (it's really as many as you want)
Directions
Preheat oven to 350 degrees.
In a large bowl, mix buttermilk, eggs, oil, brown sugar and vanilla.
In a separate bowl mix flour, baking soda and salt.
Add dry ingredients to wet ingredients.
Then, add oat bran flakes and oats and mix well. Stir in the blueberries by hand (not with electric mixer).
lightly grease your cupcake tin, or use cupcake liners. Bake for 15-20 minutes.
Prep time:

20 minutes

Cook time:

15- 20 minutes

Total time:

40 minutes