Eggplant "French Fries"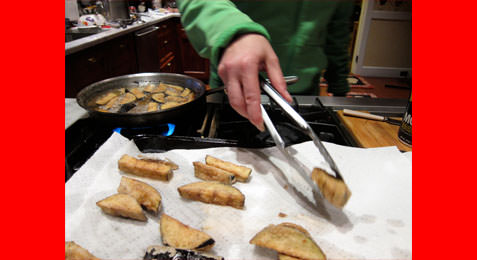 Ingredients
2

medium eggplant

1 cup

rice flour (but may need more)

1 tsp

salt

2 tsp

garlic powder

pepper to taste

Canola oil for frying (enough to fill your frying skillet of choice)
Directions
Cut the eggplant into 1/2" rounds and then into 1/4 inch strips (do not peel).
Place eggplant in large bowl and cover with water and ice cubes.
Cover the bowl with plastic wrap and place in fridge overnight.
Mix rice flour, salt, pepper, garlic powder and pepper in a medium bowl.
Heat oil in a skillet. I do a tester to see if the oil is hot enough. If the tester sizzles and appears to be browning it is hot enough.
In small batches, toss the eggplant in the rice flour mixture, coat completely and then place into the hot oil. Be patient. Let them sizzle and cook until golden - could be 5 minutes.
Remember that the oil is hot but the eggplant is cold so the oil has to come back up to temperature. Once they are golden, remove and place on a tray covered with a paper towel to absorb any excess oil and sprinkle with additional salt t taste. Let them cool a little - they taste better. I served them with burgers as a french fry alternative.
Prep time:

20 minutes

Cook time:

20 minutes

Total time:

40 minutes
Yield: 6-8 servings