Pignoli Cookies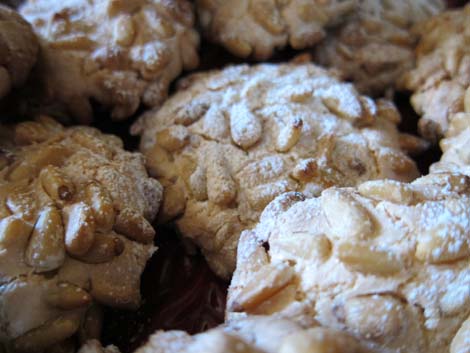 Ingredients
8 oz

almond paste

2

large egg whites lightly beaten + 1 Tbsp lightly beaten egg whites

1 cup

Confectioner's sugar

2 cups

pignoli nuts
Directions
Preheat oven to 350 degrees.
Line a baking sheet with parchment paper.
Crumble almond paste into a large mixing bowl or the bowl of your stand mixer.
Add the 2 egg whites and cup of confectioner's sugar and beat until smooth. The batter should be very soft and sticky. If not, here is where you use that extra 1 tbsp of beaten egg whites.
Put the pignoli nuts in a small bowl. Drop a scant tablespoon of batter into the nuts and roll into a ball. Place on parchment-lined baking sheet about 1" apart.
Bake 18-20 minutes until golden.
Cool on rack and then dust with powdered sugar. Store in an airtight container for a week or a month in the freezer.
Prep time:

15 minutes

Cook time:

18-20 minutes

Total time:

35 minutes
Yield: about 3 1/2 dozen cookies