Rice Fritters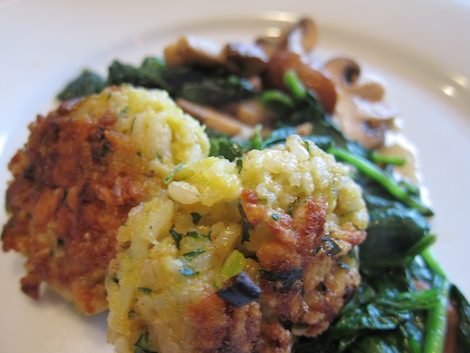 Ingredients
4 cups

leftover rice (I mixed brown and white rice, but whatever you have left over works)

1 Bunch

Scallions

1/2 cup

Parsley (minced)

3

Eggs

1/2 cup

Pecorino Romano

1/ cup

Breadcrumbs (I use gluten free breadcrumbs)
Directions
Chop scallions, using whites and greens and minced parsley.
Whisk together eggs and add in scallions, parsely, and grated cheese.
Mix egg mixture into leftover rice and then add in breadcrumbs adding additional bread crumbs if the mixture is too wet and can't be formed into patties easily.
Fry the rice fritters in a hot pan with a little olive oil until cooked through, a few minutes on each side.
Serve over sautéed vegetables- I had them over mushrooms, garlic and spinach.
Prep time:

15 minutes

Cook time:

20 minutes

Total time:

35 minutes
Yield: 4-6 servings