Jen's Pork Stew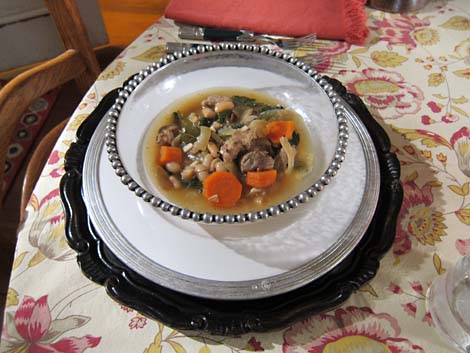 Ingredients
1

Pork Tenderloin, cubed

Salt & Pepper to taste

1 tsp

Cumin

3 Tbsp

Extra Virgin Olive Oil

3

Medium Onions, Sliced

2 Cups

Carrots, coarsely chopped

4

Garlic Cloves, Chopped

4 cups

Chicken Broth

1 15 oz can

cannellini beans, drained and rinsed

1 Tbsp

cornstarch, optional if you want a thicker stew

4 cups

baby spinach, washed well
Directions
Toss the pork with salt, pepper and cumin.
Heat 2 Tbsp EVOO in a dutch oven over medium to high heat.
Add the pork and cook until nicely browned. Remove the pork and set aside.
Add remaining EVOO, adjust heat to medium and add all veggies and cook until slightly golden.
Add the white wine and cook until it evaporates and then add the chicken broth, pork and its juices, the cannellini beans and simmer for 20 minutes.
If you want a thicker stew, take 1/4 of stew broth and dissolve the cornstarch and then add back into stew.
Prep time:

25 minutes

Cook time:

1 hour +

Total time:

1 hour & 30 minutes
Yield: Serves 4 for supper. Serve over brown rice.