Savory Sauteed Shrimp a la Jen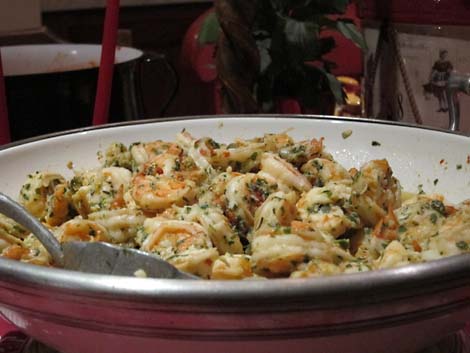 Ingredients
2 lbs

peeled, deveined, cleaned and dried

2-3

garlic cloves, minced

1 Tablespoons

Rosemary, minced

1/4 cup

Parsley, minced

1-2 tsp

Crushed Red Pepper (to taste)

1/4 cup

Parsley, minced (for garnish)

1/4 cup

Capers

1/4 cup

Olive Oil

1 Lemon

Zest

Salt & Pepper to Taste

2 Tablespoons

Butter

1 Lemon

Juice
Directions
Toss the shrimp with the garlic, rosemary, parsley, crushed red pepper, capers, olive oil, lemon zest and salt and pepper. Cover and refrigerate for 4 hours or overnight.
Heat butter until foaming in a large skillet, add the shrimp and saute until cooked about 5 minutes.
Pour into your serving bowl, toss with lemon juice and garnish with parsley.
Can be served hot of the stove or at room temperature.
Prep time:

10 minutes

Cook time:

5 minutes

Total time:

15 minutes
Yield: Serves 4-6 as an appetizer.