Baccala Salad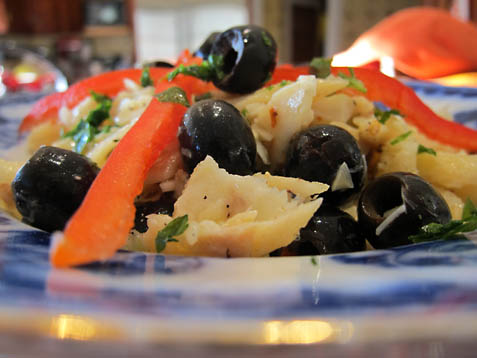 Ingredients
1 lb.

salt cod, soaked overnight or more, then drained

2 cloves

garlic, chopped

4 Tbsp

Olive OIl

1 Lemon

Juice

1/2 cup

whole cured black olives

1

celery stalk, diced

1-2

vinegar peppers, diced

1/2 tsp

black pepper, freshly ground

1/4 tsp

red pepper flakes
Directions
Place pre-soaked salt cod fish in a medium saucepan. Add water to cover cod fish. Bring the water to a boil and simmer until the fish flakes easily. Remove the cod and drain.
In a bowl mix the garlic, olives, celery, vinegar peppers with black pepper, red pepper, lemon juice, and olive oil.
Break the cod into pieces and toss with the garlic-olive mixture.
Refrigerate and let sit for at least one half hour before serving.
Prep time:

25 minutes

Cook time:

10 minutes

Total time:

35 minutes
Yield: 6-8 servings