Judith Lerner's Chicken Soup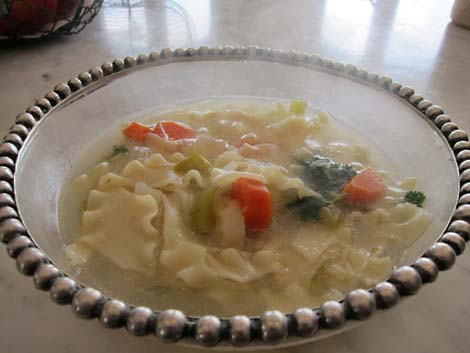 Ingredients
1

Whole Empire or organic chicken

A good handful whole curly parsley on stalks, well washed, remove before serving

A few whole stalks dill weed, well washed, remove before serving

2-3

Apples, whole, Remove before serving

3

Bay Leaves, remove before serving

3

Carrots, Peeled and Sliced

3

Small Parsnips, peeled and sliced (optional)

1/2 to 1 cup

Turnips or Rutabaga, Peeled and diced (optional)

3

3 large celery stalks with leaves, sliced

1 pound

onions, sliced

2 or to taste

whole, unpeeled garlic cloves

1

large leek including the green parts, well cleaned, sliced

1 teaspoon

sea salt or 2 teaspoons Kosher salt

Pinch of Cayenne
Directions
water to cover well
garnish finely minced fresh curly parsley and dillweed
garnish: lukshen/noodles, farfel/chopped noodles or mandlen/baked soup nuts, preferably homemade
Prepare soup a day ahead. Soup will be best if all ingredients are organic.
Tie parsley and dill stalks together in a bunch. Bring all ingredients except garnishes gently to a boil. This produces better flavors and textures than bringing rapidly to a boil.
Cover. Lower heat to simmer. Cook slowly two or three hours to develop rich flavor. Skim foam if you like; I do not do this.
Chill overnight. Remove most but not all of the congealed fat. A few drops of fat between the garnishes in each soup bowl is traditional.
Gently reheat. Remove apple skins -- the apple pulp will have melted into the soup -- bay leaves, parsley & dill before serving. Serve in wide, flat bowls garnished as desired.
Prep time:

30 minutes

Cook time:

90 minutes to 3 hours

Total time:

1 hour 20 minutes - 3+ hours
Yield: Serves 6 to 8