Heirloom Flourless Chocolate Cake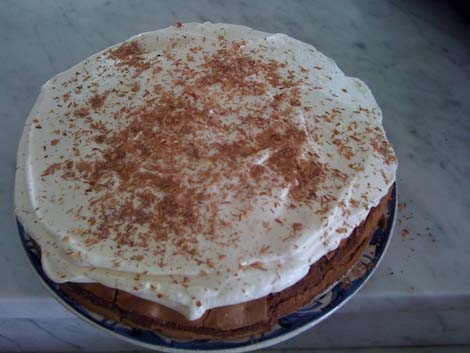 Ingredients Ingredients
10" springform pan

greased (or wax/parchment paper will do)

1 12 oz.

Semi-sweet chocolate chips

1/2 cup

unsalted butter

6

eggs – separated, room temperature

1 cup

sugar

1/2 cup

chopped pecans

1 tablespoon

Bailey's Irish Cream

1/2 teaspoon

vanilla

1 pinch

cream of tartar
Toppings Ingredients
2 cups

Whipping Cream

1/4 cup

powdered sugar

2 tablespoons

Bailey's Irish Cream

2 oz

chocolate curls
Directions
Preheat oven to 350 degrees.
Melt chocolate and butter in a double boiler.
Beat yolks in large bowl ( 5 mins., or until thick).
Beat in ½ c. sugar, 1 Tbsp at a time.
Stir in chocolate, pecans, vanilla and Bailey's.
Beat whites with cream of tartar to soft peaks.
Gradually add remaining ½.c. remaining sugar. Beat stiff, not dry.
Fold ¼ of whites into the chocolate cake mix.
Fold the mix into the remaining whites.
Pour into pan and bake 30 minutes @ 350 degrees.
Reduce oven to 275. Continue to bake 30 minutes.
Turn off oven. Let cake stand in oven with door slightly ajar. About 30 minutes.
Remove from oven. Dampen towel and place on top of cake for 5 minutes. Remove.
Top of cake will crack and fall. Cool cake in pan.
Remove springform when cool. Transfer cake to platter.
Whip cream to soft peak. Beat in powdered sugar and remaining Bailey's.
Spoon over top of cake and smooth. Sprinkle with chocolate curls.
Refrigerate 6 hours.
Let stand at room temp for 30 minutes before serving.
Prep time:

30 mins

Cook time:

1 hour

Total time:

2 hours
Yield: 6-8 servings