Carol Way's Asian-style Chicken Soup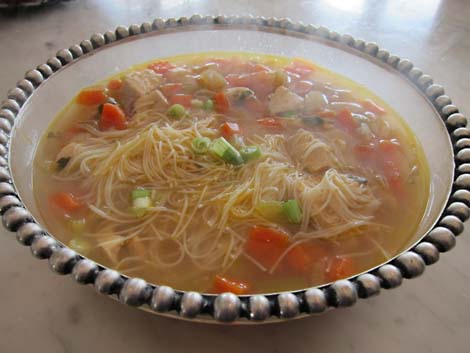 Ingredients
1

Large Sweet Onion

3-4

Carrots

3-4

Celery Stalks

4

Chicken Breast halves on the Bone

2 tablespoons

olive oil and a little extra for chicken breasts

6 quarts

chicken stock

Salt & Pepper

1/2 to 2 Teaspoons

Sriracha hot chili sauce

1 Tablespoon

Chopped Parsley

2 Tablespoons

Scallions, Thinly Sliced

1 Small Package

Rice Noodles
Directions
Rub chicken breasts with olive oil and then sprinkle with salt and pepper.
Bake in a 350 degree oven for 60 minutes or until chicken is tender and skin is brown. Cool and dice.
Finely dice onion, carrots and celery. In a large, cast iron dutch oven, sauté the vegetables in olive oil.
Add 1 tbsp salt and 1 ½ teaspoons black pepper.
Simmer for 15 minutes until vegetables are soft and flavors are melded.
Cook for about 30 minutes.
Cook rice noodles in boiling water until tender.
Drain. Add noodles, parsley, scallions, and diced chicken to the pot.
Add ½ teaspoon of the sriracha and taste.
This is extremely spicy so add as little or as much as you like, depending on your tolerance for spicy food.
Serve in deep bowls Have chop sticks and porcelain spoons available. Enjoy!
Prep time:

15 minutes

Cook time:

1 hour & 15 minutes

Total time:

1 hour & 30 minutes
Yield: 6-8 servings