Huevos Rancheros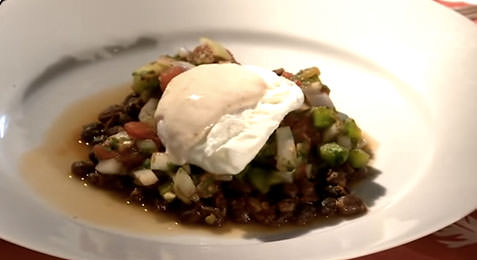 Ingredients
1 tbsp

vegetable oil

1 (15 oz.) Can

black beans, drained and rinsed

1 Tbsp

minced chipolte in adobe sauce

1 (15 oz.) Can

diced tomatoes

1

small onion, diced

1/2

green pepper, diced

2

pickled jalapenos, diced

1

garlic clove, minced

1/4 cup

cilantro, minced

1 Lime

Juice

8 oz.

non-fat plain yogurt

A dash of both cumin and chili powder to taste

1 Tbsp

Olive Oil

4

Eggs
Directions
In a saucepan over medium flame combine vegetable oil, black beans and chipotle and cook until heated through.
In another saucepan on medium heat, combine the tomatoes, onion, green pepper, jalapenos, garlic, cilantro and lime and cook until it comes to a simmer.
Combine the yogurt and spices in a small bowl.
In a skillet, heat olive oil and cook eggs. I prefer sunny side, but scrambled works as well.
On a plate, spoon warm black bean mixture, then a layer of salsa, an egg and top with a dollop of yogurt for a hearty breakfast.
Prep time:

30 minutes

Cook time:

10 minutes

Total time:

40 minutes
Yield: 4 servings