Pumpkin Cupcakes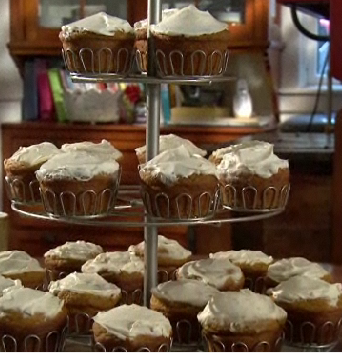 Ingredients
2 cups

Whole Wheat pastry flour

1 tsp

baking powder

1 tsp

salt

1 tsp

cinnamon

1 tsp

ginger

1 tsp

nutmeg

1 tsp

allspice

4

eggs

4 Tbsp

canola oil

2/3 cups

applesauce

1 cup

lowfat buttermilk

1/2 cup

brown sugar

1 3/4 cups

pumpkins
Icing Ingredients
1 8 oz packages

low-fat cream cheese

2 Tbsp

Skim milk

1 tsp

vanilla

3 packets

stevia

1 Lemon

Zest
Cupcakes Directions
Preheat oven to 350 degrees
In a medium bowl whisk together the first 8 ingredients (all the dry ingredients).
In a large bowl, whisk together the eggs, canola, applesauce, buttermilk, brown sugar and pumpkin.
Once that is well blended, add the flour mixture in 3 batches to make sure it is well incorporated.
Fill cupcake tins about 3/4 full. I recommend using a non-stick cupcake tin.
Place in middle of the oven and bake for 20-30 minutes until your tester comes out clean and the cupcake springs back when you touch it.
Remove from oven and let cool before icing.
Icing Directions
Blend until smooth with an electric mixer. Ice the cooled cupcakes and enjoy.
Prep time:

15 minutes

Cook time:

20-30 minutes

Total time:

45 minutes
Yield: Makes 18 cupcakes