Chicken with Chick Peas and Tomatoes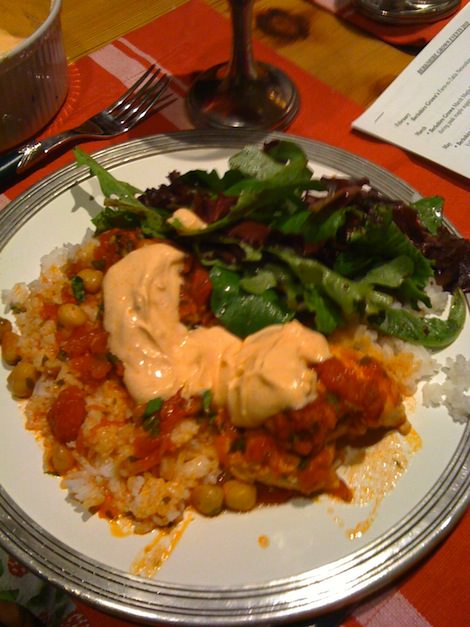 Ingredients
2

whole boneless chicken breast, cut into 8 pieces

4

garlic cloves, pressed

1/4 cup

Olive Oil

1 Tablespoon

Smoked Paprika

1 Teaspoon

Cumin

1/2 Teaspoon

Red Pepper Flakes

1 cup

Minced Cilantro

1 cup

Plain Yogurt (I like 2% greek but any will do!)

1 Can

Chickpeas

1 can

Diced Tomatoes (I use Muir Glen)
Directions
Preheat oven to 450 degrees. Mix the garlic, oil, paprika, cumin, red pepper flakes.
Spoon 1 tablespoon in the yogurt and set aside.
Place chicken in a baking dish and spoon 1-2 tablespoons of the spice mixture on the chicken.
In a bowl, mix the chick peas, tomatoes, remaining spice mixture and 1/2 cup cilantro. Pour over chicken.
Bake for 30-40 minutes. Serve over rice with a dollup or two of yogurt and sprinkle with cilantro. Enjoy!!
Prep time:

15 minutes

Cook time:

30-40 minutes

Total time:

45-55 minutes
Yield: 4-6 servings