Roasted Chicken and Vegetable Pasta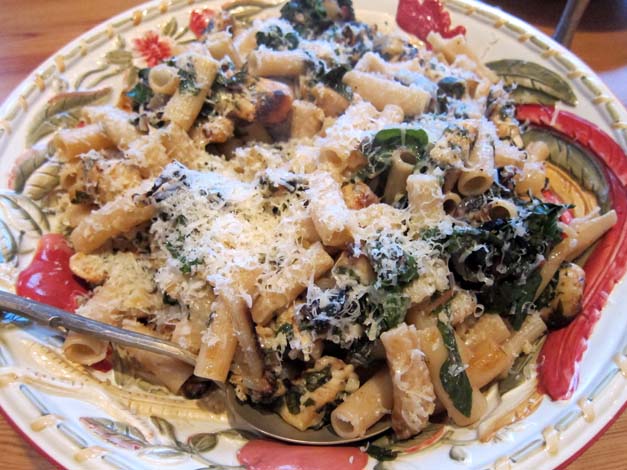 Ingredients
2

Whole Boneless, Skinless Chicken Breast; cleaned and cut into cubes

1/2 cup

chopped basil

4

medium onions sliced

1/4 cup

olive oil

1

clove garlic

1 tsp

salt

1/8 tsp

red pepper flakes

1 lb

Swiss Chard

1/2 lb

Pasta (I use gluten-free)
Directions
Preheat oven to 400 degrees.
Spread on a baking sheet with parchment paper.
Roast in the oven for about 30 minutes until onions are caramelized and chicken is golden.
While the chicken is roasting, cut out the tree stem of the Swiss chard. Saute seperately until soft with a Tbsp of olive oil.
Boil water for pasta, cook the pasta.
Save a cup of pasta water and mix it with the leftover pieces of vegetables stuck to the parchment paper. This creates a glaze for the pasta to ensure that it will not dry out.
Combine chicken and vegetables with the pasta, the pasta glaze, and the Swiss chard.
Prep time:

20 minutes

Cook time:

30 minutes

Total time:

55 minutes
Yield: 4-6 servings