Chicken Piccata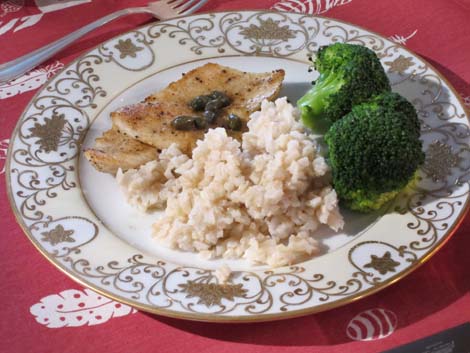 Ingredients
1

Whole Boneless, Skinless Chicken Breast

2 Tbsp

Whole Wheat Pastry Flour

Pinch of Salt & Pepper

2 Tbsp

EVOO

1/4 cup

White Wine

1 Lemon

Juice

2 Tbsp

capers, drained

1/4 cup

Parsley for garnish
Directions
Slice chicken breast into 8-10 thin pieces (cutlets).
Mix flour with salt and pepper. Dredge chicken in flour.
Heat EVOO in large frying pan over medium/high heat.
Cook chicken until golden on both sides.
It is OK if some bits of brown stick to pan. Remove chicken from pan and place in a serving dish.
Deglaze the pan with white wine. A poof of steam will release and the wine will evaporate quickly.
Then add the capers and lemon juice. Swirl around in pan for a few seconds and pour over chicken.
Prep time:

20 minutes

Cook time:

20 minutes

Total time:

40 minutes
Yield: 4 servings