Almond Blueberry Cookies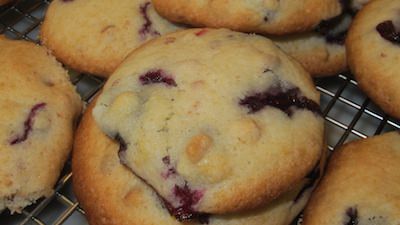 Ingredients
2 cups

flour (gluten-free)

2 tsp

baking powder

1/2 tsp

salt & Pepper

1

stick butter

1 cup

sugar

1

egg

1/4 cup

whole milk

1 tsp

almond extract

2 tsp

lemon zest

1/2 cup

chopped toasted almonds

1 cup

blueberries
Directions
Combine flour, baking powder and salt into medium sized bowl.
In a separate bowl cream butter and sugar.
Then add the egg to creamed mixture.
Add whole milk, almond extract, and lemon zest to creamed mixture.
Now stir dry ingredients into the wet mixture.
Then fold in toasted almonds and blueberries.
Chill dough for 30 minutes. Bake at 375° for 15 minutes.
Prep time:

20 minutes

Cook time:

15 minutes

Total time:

40 minutes
Yield: 2 dozen cookies