Custard and Roasted Rhubarb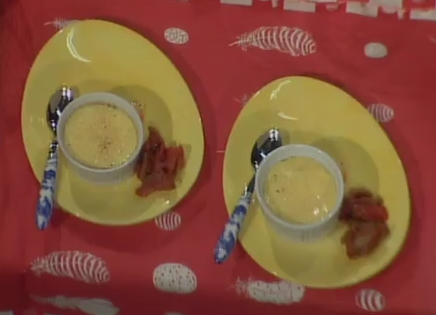 Roasted Rhubarb Ingredients
4 lbs

Rhubarb, cleaned and sliced into 1 inch pieces

1/4 cup

Pure Maple Syrup
Simple Custard Ingredients
3

large eggs

3

egg yolks

1/2- 3/4 cups

sugar

Pinch of Salt

1 tsp

Vanilla

3 cups

Milk

Grated Nutmeg
Roasted Rhubarb Directions
Preheat oven to 200 degrees.
Toss the rhubarb and maple syrup. Line a baking sheet with parchment paper, spread the rhubarb on the baking sheet and place in the oven.
Roast for about 2 - 2.5 hours, checking and turning so the pieces near the edges of the baking sheet don't dry out.
Simple Custard Directions
Whisk the eggs, egg yolks, sugar, salt and vanilla in a bowl with a pouring spout if possible.
Heat the milk until simmering - you will see some steam. In a stream, pour the heated milk into your eggs mixture, whisking constantly. For a completely smooth custard, you can strain the mixture.
Pour into eight 6-ounce custard cups or ramekins. Finish with freshly grated nutmeg.
Place the ramekins in a baking pan and then add boiling water 1/2 way up the side of the ramekins.
Place in the middle of your preheated oven and bake for 40 minutes +/-. (If you don't want a skin to form on your custard, you can cover with tinfoil.)
You will know when they are done as the edges will be set but the center will still be jiggly. Remove from the water bath and cool.
Once cool, cover each one individually with plastic wrap and chill in your refrigerator. Will keep for several days so make extra! Serve chilled with your roasted rhubarb on the side and enjoy!
Prep time:

15 minutes

Cook time:

2 hrs & 30 minutes

Total time:

2 hrs & 45 minutes
Yield: 10-12 servings