French Onion Soup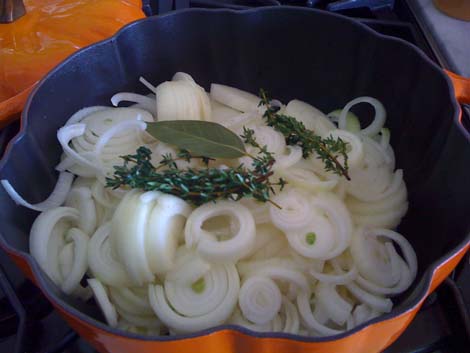 Ingredients
10-12

Medium-Large Onions, Peeled and Sliced

2 Tablespoons

unsalted butter

2

Bay leaves

1 Tablespoon

dried thyme or a few fresh sprigs

1/2 cup

Sherry

8-10 cups

Beef Broth

Gruyere Cheese

A few slices of bread (optional if you are gluten intolerant or watching your carb intake)
Directions
Preheat oven to 350 degrees.
In a dutch oven, put your onions, butter, olive oil, bay leaves and thyme. Bake covered for about an hour.
Remove from oven and stir. The onions should be nicely browned but not 100% caramelized yet. Put back in oven for another 30-60 minutes until caramelized.
On top of the stove on medium heat, add the sherry to deglaze the pan, then add the beef broth and cook for another 20 minutes or so.
You are now ready to make the individual servings. In oven proof soup bowls, add the soup, a crusty piece of bread and a generous amount of grated gruyere to cove the entire top.
Place under broiler and remove when cheese is melted and golden.
Prep time:

15 minutes

Cook time:

2 hours & 30 minutes

Total time:

2 hours & 45 minutes
Yield: 8- 10 servings