Early Spring Asparagus Risotto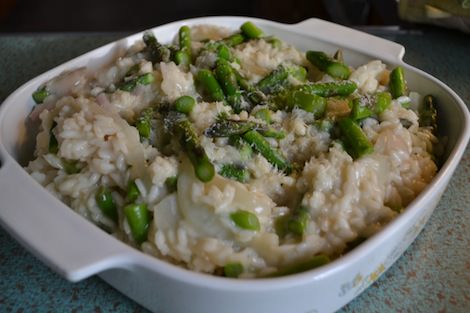 Ingredients
1 bunch

asparagus, cut into 1 inch pieces

4 cups

Water

2-2 1/2 Tablespoons

butter or olive oil (I use both, 1 T butter, 1+ T of olive oil)

1/2 - 3/4 cups

mix of shallots and onions, chopped (I used 2 shallots and one small onion)

2 cup

Arborio Rice

1/2 cup

White Wine

4 cups

Chicken Stock

3-4 cups

Asparagus Water

4 cups

Chicken Stock

1 cup

Parmesan Cheese

Salt and Pepper to taste
Directions
Clean and cut the asparagus into 1 inch pieces. I like to cut them on the diagonal.
Blanch the asparagus for a minute or so and remove from water.
Keeping the warm water to add to the risotto.
Heat the chicken stock and asparagus water to a near boil and keep warm.
Heat your butter and oil in a large saucepan or risotto pot. When butter is melted, add your chopped shallots and onions. Saute for 2-4 minutes until translucent.
Then add your arborio rice and stir to coat thoroughly with your butter and oil and then continue to saute for another minute or so.
Add your white wine and stir until it is completely absorbed.
Next we begin the process that makes risotto creamy. Add a ladle of your hot chicken broth and stir constantly until is is absorbed. Repeat until you have used all your broth and most, if not all, of your asparagus water. And when your rice is tender but not mushy.
At this time, remove from heat, add asparagus, then add parmesan cheese, salt and pepper to taste and serve immediately.
Yield: Makes 4 generous dinner servings or 6 side servings.