Toffee Cream Surprise Dessert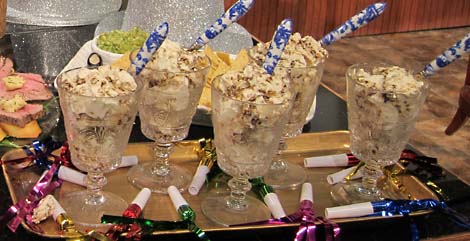 Ingredients
2 cups

packed brown sugar

2

Eggs

2/3 cup

flour

1 cup

Chopped Pecans

1 teaspoon

baking soda

2 cups

heavy cream

2 tablespoons

Brandy
Directions
Preheat oven to 350 degrees. Spray a 9" X 13" baking dish with vegetable oil.
Mix together the brown sugar, eggs, flour, pecans, and baking soda.
Spoon the batter into the baking dish. Bake for about 25 minute or until the tester comes out clean.
Cool for about 2 hours. The whip the heavy cream until soft peaks form and fold in the brandy.
Break the cake into small pieces and fold into the cream.
Spoon the mixture into a clean 9 x 13 pan and spread evenly. Freeze until firm, about 4 hours or overnight.
When ready to serve, spoon into goblets and serve.
Prep time:

15 minutes

Cook time:

25 minutes

Total time:

50 minutes
Yield: 8-10 servings