Healing Miso Soup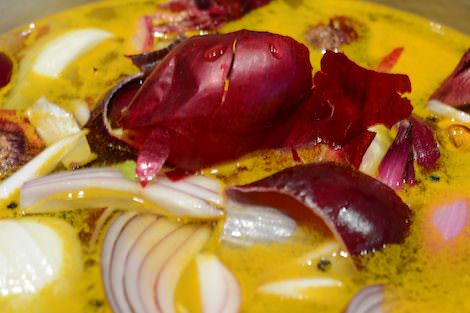 Ingredients
2-3

Red Onions, coarsely chopped, keep the peels

1

fennel bulb, cut into quarters

4-5

garlic bulbs, peeled and smashed

5-6

carrots, coarsely chopped

2 tbsp

whole black peppercorns

1 tsp

salt

1-2 tbsp

turmeric

12 cups

water

1

kabocha squash, washed, cut up and seeded

1/2 cup

miso, strained into the soup

1 package

firm tofu, cubed
Directions
Combine all ingredients including the onion peels except the miso, tofu and kabocha squash.
Simmer for one hour or more. Strain the vegetables.
While the vegetables are simmering, place the kabocha squash into a saucepan. Add water to cover up to half of the squash, cover and steam until the squash flesh is soft.
Pour the kabocha broth into the other vegetable broth. Save the kabocha to eat as a side vegetable with a dribble of coconut oil and sea salt.
Put the miso into a fine strainer. Dip the strainer into the liquid and press the back of a spoon into the miso to squeeze out the liquid and leave the solids.
Add the tofu. Heat but Do NOT boil. Serve and Enjoy!
Prep time:

15 minutes

Cook time:

45 minutes

Total time:

1 hour
Yield: 6-8 servings