Saturday December 26, 2015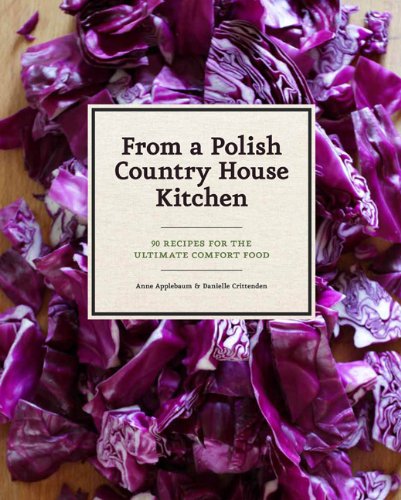 From a Polish Country House Kitchen: 90 Recipes for the Ultimate Comfort Food
This book doesn't pay strict adherence to traditional Polish cooking. Instead, as Anne Applebaum learned to cook out of necessity, finding herself living in her family's recently-purchased, dilapidated Polish manor home, she had to cook with what was readily-available. In this way, she took on her own style, using similar ingredients, but straying from Polish techniques to create her own.
From a Polish Country House Kitchen begins with vignettes capturing the home's narrative -- a grouping of chopped mushrooms, a bowl of just-picked plums, and a wooden gate marking the entrance into the garden. In the preface, Danielle Crittenden addresses the seeming absurdity of writing a Polish cookbook and discusses the looks of surprise when she mentions the project. However, she turns on this, saying that the book moves forward from the familiar food of Polish peasantry, instead honoring the culture that has been reinvented and brought to a higher standing.
The women take one of the greatest representations of Slavic culture, beet soup, and give three versions that satisfy any range of palates. While the traditional version is heavier in its variety of vegetables -- carrots, parsnips, leeks, celery, root, and mushrooms galore -- they also provide an option made more exciting with the addition of balsamic vinegar. The final recipe is pictured in its light-pink glory, slivers of hard-boiled eggs peeking out from among a garnish of chopped chives and the beets' vibrant hue.
Chicken takes focus in many of the main recipes, like Stuffed Chicken Breasts with Cognac Sauce and Roast Chicken with Clementines. However, a picture boasting chunks of mushrooms in a cream-laden sauce spooned over slices of chicken has me craving the Chicken Breasts with Chanterelle Sauce. Simply browning the chicken on each side, cooking with butter, onions, garlic, the chanterelles, and baking away with a bit of cream allows for a comforting and deliciously simple weeknight meal.
When a sweet tooth nags me with its tantalizing images of vanilla ice cream or apple pie, I don't know why Polish desserts never enter my mind as well. The Cheesecake with Strawberry-Red Currant Sauce trumps all heavy, overly-sweet American alternatives. The authors explain that the difference is in the cheese, where the Polish version relies upon a "farmer's cheese" to give the cake a lighter, airier texture. The brightness of the sauce lends a hit of color and flavor to the ricotta filling and breadcrumb crust. They suggest eating it with ice cream, thankfully satisfying my American cravings as well.

This is the story of an American kitchen coming into contact with the established practices of a Polish one, testing how simple food can change with location, and seeing how it can become your own.