Saturday December 12, 2015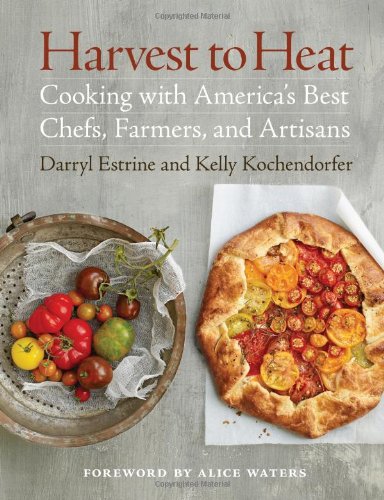 Harvest to Heat: Cooking with America's Best Chefs, Farmers, and Artisans
Even before the title page, Harvest to Heat sends us immediately into a world of fresh produce and gorgeous culinary offerings. An array of violet-hued eggplants, plums, and flowers is spread across a two-page spread, prefacing the beautiful images and thoughtful recipes which follow. In the book, chefs, farmers, and artisans come together in sharing their philosophies on what it means to buy, cook, and consume locally.
The first recipe, Blue Cheese Tartine, showcases the Bayley Hazen blue cheese from Jasper Hill Farm in Greensboro, Vermont. Though the name sounds fancy, the headnote reassures you that tartine simply means an open-faced sandwich. Toasting thick slices of rustic sourdough bread brushed with a little olive oil and allowing a sprinkling of the cheese to melt on top, makes the perfect base for crispy slabs of bacon and a sweet hit of wildflower honey. It is a composition perfect for breakfast or an easy-to-assemble lunch. Simply made, simply delicious.
The Crème Fraîche Galette with Heirloom Tomatoes continues upon the theme of country-style French cooking. A galette makes a beautiful free-form base for a stunning array of tomatoes in every color. A combination of the tangy crème fraîche and the well-developed but not overpowering bite of Manchego sits beneath the tomatoes, creating a creamy consistency when emerging from the oven in its melted glory.
I skim through the dessert section, finally settling in upon the Chocolate Pots de Crème. This has always been one of my favorite desserts for its creamy texture and rich bite. Diving your spoon into a jar or ramekin containing the perfectly-set mixture is a small pleasure that is invariably satisfying. The recipe provides a balance of flavors between the heat of fresh ginger and the sweetness of chocolate. This intensity makes for the limited use of sugar -- an ideal result.

In the foreward, Alice Waters describes the mission she built her restaurant, Chez Panisse, around. She began with a goal of bringing the culinary aspects of France to California, those which exposed her senses to a new way of eating. However, it grew into a passion for knowing the farmer, their story and the story of their food. She applauds Harvest to Heat for sharing this purpose, for wanting to connect the consumers to producers in a bond sealed by the seduction of simple, well-made food.
This book is a nod to the future of American cooking, one where we care not so much for the immediacy and accessibility of our meals, but for the careful development of their history from plant to plate.