Katja Rowell's German Red Cabbage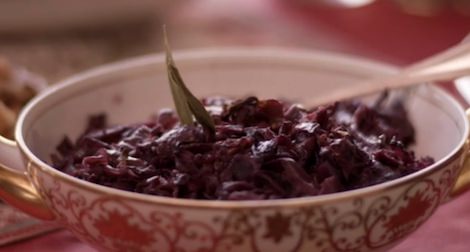 Ingredients:
Serves 4-6 people
2-3 strips of bacon
½ medium onion, diced
2 ¼ pounds red cabbage, chopped
2 ¼ apples, cut small
1 cup apple cider
4-6 cloves
1 Bay-leaf
Salt and pepper to taste
Apple cider vinegar to taste
Honey to taste
Instructions:
Cook bacon and put the fat in a large dutch oven. Remove cooked bacon and dice medium onion and cook in the leftover bacon fat. Add chopped red cabbage, apples, cloves, apple cider and bay leaf to the onion-fat mix.
Cook down on a low heat, checking and stirring frequently to be sure of enough liquid (1 ½ to about 2 hours).
Add honey and apple cider vinegar to taste