Saturday October 31, 2015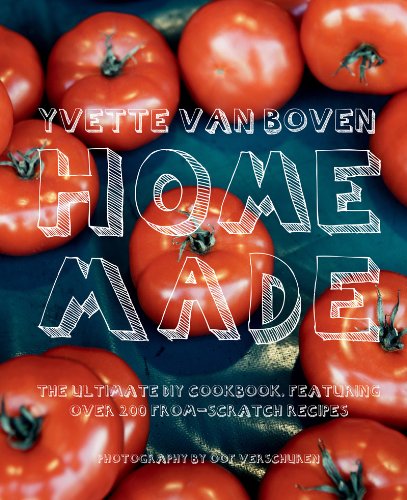 Home Made
There is nothing quite like the satisfaction of handcrafting cheese, yogurt, or bread -- staples we've come to rely upon the supermarkets to provide for us, but which are foods we can easily make ourselves. In Home Made, Yvette van Boven gives easy-to-discern instructions that eliminate any fear in preparing your own food.
She organizes the book by first explaining in detail how to craft a primary ingredient, then taking this and applying it to an assortment of recipes to follow. One such example is broth, the base for things like risotto, polenta, casseroles, and the always-comforting soup. I too sometimes fall prey to the ease and accessibility of boxed broths, but nothing compares to the complexity of taste which results from roasting meat with herbs and oil and boiling afterwards so as to combine the aromas into one enticing scent.
Van Boven provides recipes for stocks using veal, chicken, fish, or even just vegetables alone. The soups which follow these basic broth formulas build upon their depth of flavor -- the Chunky Chowder adds salty cured ham, the slightly minty flavor of thyme, and the sweetness of cream to meld beautifully with your homemade fish stock. Pictured alongside a hunk of rustic bread, this comforting soup is all you need for a hearty meal.
There is nothing more fun or more romantic than roasting your dinner atop your own outdoor grill. Van Boven's detailed but simple instructions begin with building the rock enclosure which will surround your fire pit, progressing to the actual cooking and enjoyment of the meal, all the while documenting the excitement and joy which comes from taking your kitchen outside, creating it yourself. Once dinner is complete, Van Boven suggests enjoying the fire's alternative use, enjoying it as a source of warmth against the summer's chilly nights.

The following page displays an image of different rubs and marinades which complement the fire's slow and patient method. A North African Rub takes spice from the cayenne and dried chile pepper, while the tablespoon of sugar in the Fennel Seed Rub contrasts the flavor of sea salt and white peppercorns. She shares a recipe for One-Person Chicken with Sage, Garlic, and Mushrooms, a tribute to the group of students who often gather behind her house in Paris for an end-of-the-day meal. This story and recipe summarize the book's intent and the true goal of homemade cooking -- allowing friends and loved ones to gather around the process of making and enjoying food.