Anne Maxfield's Lollipops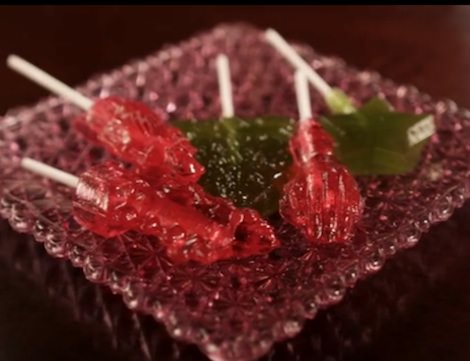 Ingredients
2 cups

sugar

2/3 cups

light corn syrup

3/4 cup

water

1/4 tsp

flavoring (use oil-based flavorings)

1/4 tsp

food coloring
Directions
Lightly grease the molds (Pam works well) and close with elastics.
Have the flavoring and food coloring close by the stove. In a large saucepan, mix together sugar, corn syrup and water.
Heat over medium-high heat, stirring until the sugar dissolves. Bring mixture to a boil, without stirring.
When it reaches 300°F on a candy thermometer, immediately remove from the heat and quickly stir in the flavoring and coloring. Stir to combine thoroughly. Be very careful, the mixture will steam and is very potent if inhaled!
Carefully pour the syrup into the prepared molds, insert sticks and chill in the freezer (or out in a snow bank) until the molds feel cool to the touch and can be gently cracked open.
Cut the elastics with a knife and use the back of the blade to pry open the molds.
Prep time:

5 minutes

Cook time:

15 minutes

Total time:

20 minutes + Time to Cool
Yield: 24- 30 depending on the size of the molds