Elle Green's Sweet Potato Cake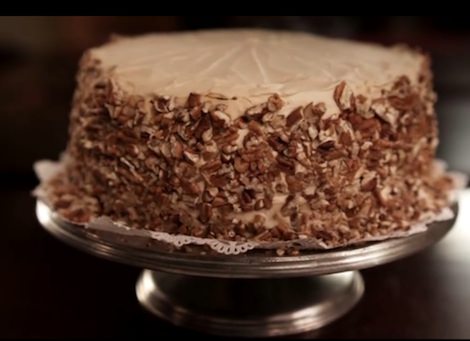 Cake Ingredients
3 cups

sifted all-purpose flour (sifted, then measured)

3/4 cup

bourbon soaked raisins (soak for at least 30 minutes)

2 1/2 tsp

ground cinnamon

1 tsp

ground whole nutmeg (fresh)

1/4 tsp

ground cloves (fresh)

3 tsp

baking powder

1 tsp

salt

1 cup

sugar

1/2 cup

brown sugar

2 sticks

butter (softened)

2

large eggs

2 tsp

vanilla extract

2 cups

finely grated sweet potatoes

12 ounces

pineapple (Tip: 1 20 oz can crushed pineapple, drained yields 12 oz.)

1/2 cup

milk
Mousse Filling Ingredients
1 1/2 cup

roasted sweet potato puree

1 cup

heavy cream

1/3 cup

brown sugar

1/4 tsp

salt
Frosting Ingredients
three 8 oz. packages

cream cheese; softened

1 cup (2 sticks)

unsalted butter; softened

3/4 cup

heavy cream

1/3 cup

maple syrup

1/4 cup

brown sugar

1 tsp

vanilla extract

2 1/2 - 3 cups

chopped pecans
Cake Directions
Preheat Oven to 350°F. Prepare cake pans by spraying with non-stick baking spray. Line bottom of pans with parchment paper.
Combine all dry ingredients including the raisins and excluding the sugars. Measure the sugars into a separate bowl.
In a separate bowl add butter and sugars, cream until fluffy.
Add eggs one at a time, beating well after each one.
Add dry ingredients to the butter mixture.
Add the milk and vanilla and beat on medium speed until combined.
Stir in crushed pineapples and shredded sweet potatoes.
Divide batter evenly among 3 pans and bake until cooked-through, about 30 minutes, until a cake tester comes out clean. Cool cakes in pans on racks for 1 hour. Remove cakes from pans and place on racks and allow to cool completely.
Place one cake layer onto platter and frost (recipe below). Add 1/3 of mousse (recipe below) and continue the same process until all three layers are complete.
Spread a thin layer of frosting over top and sides of cake.
Chill cake and remaining frosting for 30 minutes. Spread remaining frosting over top and sides of cake. Coat the cake's collar with chopped pecans. Chill for at least an hour.
Mousse Filling Directions
In a well-chilled mixing bowl add heavy cream. Using a whisk attachment, whip cream until it begins to thicken.
Add brown sugar and whip on high speed until stiff peaks.
Add potato purée and salt, combine on medium speed.
Frosting Directions
Beat cream cheese, butter, vanilla and maple syrup in mixing bowl until smooth.
In a well-chilled bowl, add heavy cream and whip until it thickens.
Add brown sugar and whip until stiff peaks. Beat into cream cheese and butter mixture. Chill until firm enough to spread, about 30 minutes.
Prep time:

1 hour

Cook time:

30 minutes

Total time:

2 hours
Yield: 10-12 servings