Scott Keough's Eggnog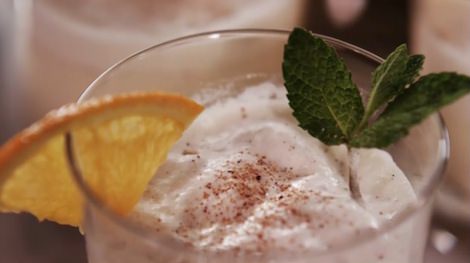 Ingredients
1

dozen fresh eggs

1 quart

heavy cream

1 1/2 cups

sugar

1/2 gallon

vanilla bean ice cream

1 quart

fresh milk

3

nutmeg nuts ground fresh

1 1/2 tsp

Vanilla extract

151 dark rum (to taste)
Directions
In large bowl, place ice cream to soften while working on next steps.
Separate the eggs. Beat the egg whites in your largest bowl until stiff. In another bowl, beat the heavy cream until the consistency of whipped cream.
And in yet another bowl, beat the egg yolks with the vanilla, sugar and nutmeg. Once those are smooth, add the quart of milk and blend until fully incorporated.
Now we get to put it all together. Fold the ingredients into your eggs whites in the following order. First, the egg yolk mixture, next your whipped cream and finally the softened ice cream.
The next step is optional: add 151 rum to taste.
If you plan on serving the eggnog on the day you make it, you can place the bowl in the freezer for at least an hour before serving.
Please note that you can store the eggnog in the freezer for up to three weeks. When ready, take out and mix well (should be like a milkshake) and put into your punch bowl. If the eggnog has been in the freezer awhile it may need to warm up for a bit before it can be mixed.
Prep time:

30 minutes

Total time:

30 minutes
Yield: 15-20 servings