Saturday August 29, 2015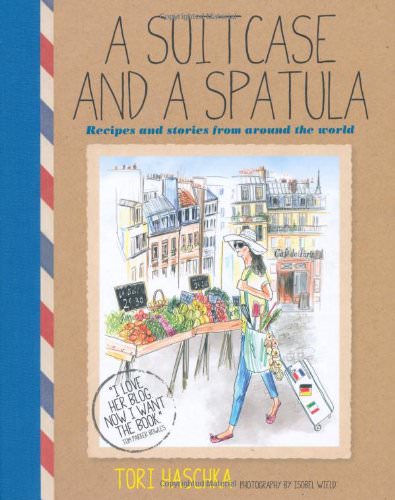 A Suitcase and a Spatula: Recipes and Stories from Around the World
Though we can't all pack our bags and head off to Paris when a hankering for French culture arises, it is within our ability to be transported by a single bite of a flaky and light, buttery croissant. Or how about Raspberry Croissant Pudding? This is exactly what food and travel writer Tori Haschka wants to give her readers in A Suitcase and a Spatula. Her recipes make even the most far-off travel destinations accessible, all through the sense of taste.
Haschka believes, just as I do, that our palates have a direct connection to our memories and imaginations. Highlighting the ingredients and flavors exclusive to the destination, Haschka uses her recipes to carve out and put on display the region's cultural landscape. Peppers spiced with the heat of a red chili in Baked Moroccan Eggs evokes the warmth of the coast of Agadir, while the distinctive bitterness of the liqueur in her recipe for Sardines with Campari, Peach and Fennel raises images of enjoying a Spritz or Bellini in a Venetian Bar. The dish itself is pictured plated simply atop a white dish, allowing its brightness of color and flavor to take focus among vintage china plates stacked to the side.
I love cookbooks that go beyond simply giving measurements and proportions, ones that surpass a list of ingredients and instructions by including light but thoughtful prose. Doing so intertwines food and experience, showing the former's deep profundity and effect upon our lives. Haschka applies this in her reflection of Menton in the south of France, where she describes the outpour of beauty in its abundance of flowers and the restorative effects of mussels and rosé, a food and drink combination that became the cure to her flu when she visited. Her headnote for her Mussels, Fennel, and Chickpeas in Pink Wine serves as a precursor for the joy that is to come, stating that "No matter how you were feeling when you started, healthy contentedness comes from this."

A Suitcase and a Spatula lets you take a vacation from your kitchen, allowing you to experience the food and world beyond your stovetop. Tori Haschka provides you with two invaluable gifts: a life well-traveled and a body well-fed.