Charity Kahn's Super Duper Turkey Dressing Recipe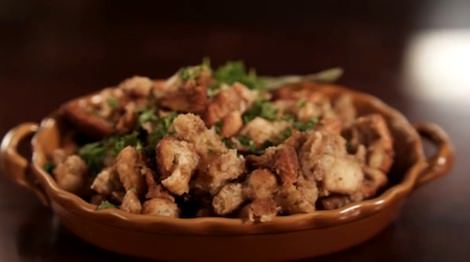 Ingredients
1

loaf white bread, cubed and toasted

1

Onion, Chopped

1 cup

chopped celery

2 1/2

sticks butter

1-2 tbsp

sage (to taste)

1 tsp

salt (to taste)

1/2 pepper

(to taste)
Directions
Preheat oven to 350°F.
Cube 1 loaf white bread and put on cookie sheet in low oven to dry.
Cook chopped onions and chopped celery in butter until soft.
Mix bread cubes, onion and celery in large bowl with salt pepper and sage. Use a lot of sage. I cannot tell you how much, but enough so you can see it on the bread without it looking black.
Mix all together with enough hot water so that it holds—not soggy, not too dry. Pack tightly in turkey and hope for the best.
Bake the first 15 minutes covered with aluminum foil and then remove foil for the remaining time prior to taking the stuffing out.
Prep time:

20 minutes

Cook time:

1 -2 hours (depending on turkey)

Total time:

1 hour & 20 minutes
Yield: 8- 10 servings