Darlene Tenes' Tamales with Shredded Pork and Pasilla Chile Sauce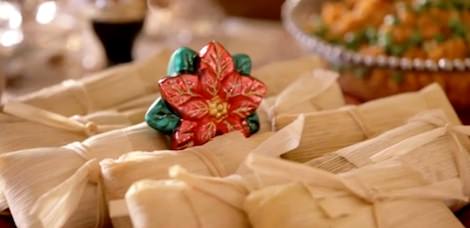 Basic Fresh Masa Preparada for Tamales Ingredients
2 cups

butter or lard

5 lb.

fresh masa

2-3 cups

chicken, pork, or vegetable stock

2 tbsp

salt

2 tbsp

baking powder (ask when you purchase the masa, frequently it is already added)
Classic Shredded Pork with Pasilla Chile Sauce Ingredients
3-4 pounds

boneless pork shoulder roast

1

large onion, peeled and chopped

5-6

garlic cloves

1 quart

Water or chicken stock

1

recipe for Pasilla Chile Sauce
Pasilla Chile Sauce Ingredients
12

dried pasilla chilies

1

onion, peeled and coarsely chopped

4

cloves of garlic

1 small can (2 cups)

fire roasted tomatoes, drained

4 tbsp

vegetable oil, divided

1 ½ cups

chicken or vegetable stock

2 tsp

cumin seeds

1 tsp

coriander seeds

1 tbsp

brown sugar

salt & pepper to taste
Basic Fresh Masa Preparada for Tamales Directions
Place the butter or lard in the bowl of heavy-duty mixer. With the paddle attachment on high, whip the butter for 2 minutes, or until fluffy.
Lower the speed to medium and add the fresh masa alternately with 2 cups stock and baking powder (if needed), then add salt. (You may need to do this entire procedure in 2 batches.) Beat until well mixed.
Return the mixer to high and whip for 3 to 5 minutes or until the masa resembles consistency of spackle.
If necessary, add additional stock, ¼ cup at a time until the correct consistency is attained. The dough should be soft but workable.
Classic Shredded Pork with Pasilla Chile Sauce Directions
Preheat oven to 325°F.
In a heavy "stove top to oven" sauté pan, sear the pork on both sides in a little oil and add the onion and garlic.
Pour in enough water or chicken stock to barely cover the roast. Bring the liquid to a simmer, cover the pot and place it in the oven. Cook for about 2 hours or until the meat is fork tender.
Let the meat cool and then shred and set aside. Prepare the Pasilla chili sauce (recipe below) and fold enough of it into the meat to make it juicy but not runny. (You may make this well in advance and refrigerate or freeze.)
Pasilla Chile Sauce Directions
Remove the stems and seeds from the chilies.
Bring about a quart of water to a boil in a medium pot and add the chilies to the boiling water.
Remove them from the heat and let them stand for about a half hour to soften.
Heat 2 tablespoons of the oil in a heavy sauté pan and sauté the onions until tender, about 3-4 minutes.
Using a food processor or blender, purée the soaked chilies, onion and garlic. Save the liquid from soaking the chilies.
Heat remaining oil in the skillet and toss in the cumin and coriander seeds, heating them for a scant 30 seconds.
Stir in the chili purée, the 2 cups chili soaking liquid and enough stock to give the sauce a pourable consistency.
Add the brown sugar and season with salt and pepper. Simmer gently for about 6-8 minutes.
Prep time:

1 hour

Cook time:

2 hours

Total time:

3 hours
Yield: 3 dozen tamales