Saturday September 26, 2015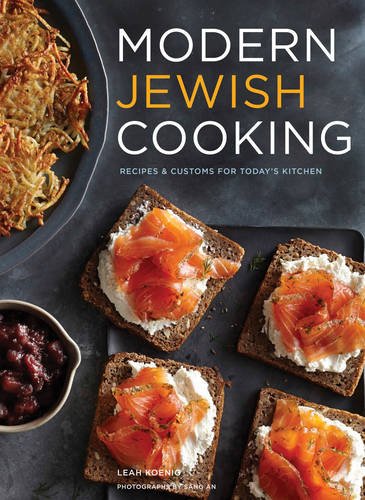 Modern Jewish Cooking: Recipes & Customs for Today's Kitchen
Leah Koenig's childhood meals took inspiration from her Midwest hometown and the traditional Jewish food of her mother's heritage. Modern Jewish Cooking straddles the divide between past and present, giving time-honored recipes a new perspective while retaining the memories their flavors convey.
The recipes remain the same in essence as Koenig experiments with subtle changes to make them her own. It isn't changing them completely, but more so updating them with the flavors Koenig has come to prefer. She recalls the varying textures of the matzo balls of her youth, but proves she doesn't fear change in adding a healthy amount of heat by way of sautéed jalapeños and shallots.
She uses the often bland matzo crackers as the base for her Matzo Granola with Walnuts and Coconut. The addition of honey, maple syrup, and cinnamon bring flavor to this slightly sweet but still wholesome morning meal. Koenig suggests it as an option during Passover, when other carb-heavy breakfast sweets become off-limits, but over a bowl of yogurt or splashed with a cup of milk, the granola makes for a delicious, casual, and light start to any day.
Koenig relies upon literary inspiration as the guide for her Spinach Shakshuka, having fallen for an in-depth description of its creation and taste. She creates a base of baby spinach wilted with the flavors of a small jalapeño, garlic, coriander, and cinnamon. Atop this sit four beautifully-poached eggs, their whites just barely set and the yolks threatening to pour out in gorgeous, sunny yellow streaks. This North African dish proves the perfect comfort for weeknights when cooking time is limited, but when you can spend a few extra moments sopping up the final bits with a hearty tear of bread.
Reinvention is a form of honoring the joys of the past. Koenig knows that nothing is entirely separate from what came before it and strives to promote the traditions set by family members before her. She doesn't want to lose Jewish culinary precedent in a world that is constantly changing and moving towards something that has never been seen, tried, or tasted in the past. However, she still pushes to "infuse history with a sense of innovation." This results in a strong focus on making these dishes accessible to newer generations of cooks, those not yet entirely comfortable with navigating a Jewish chef's kitchen filled with a foreign array of spices, or ingredients not yet familiar to their still-developing palate.

The book concludes with Koenig profiling Jewish holidays, from Shabbat to Sukkot, accompanied by menus and meal suggestions optimal for each celebration. She invites every reader, whether of Jewish descent or not, to join the table and celebrate this food.