Saturday July 25, 2015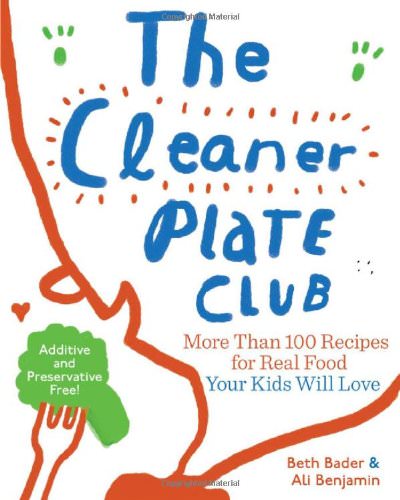 The Cleaner Plate Club: Raising Healthy Eaters One Meal at a Time
I'm sure you have memories of trying to get your children to take just one bite of pasta primavera, a relatively-mild dish whose abundance of vegetables would provide nearly their entire daily requirement. It's also possible that you're still struggling with this. If you belong to the latter group, Beth Bader and Ali Benjamin's book The Cleaner Plate Club is the answer you've been looking for.
This isn't a book with an exclusive focus on "kid food" palates. It is filled with tips and recipes for moving away from giving into your child's desire to eat all-white meals (a carb overload of plain pasta and sandwich bread) and that foster a life-long love of eating instead. Leading off with the Ruth Reichl quote "Pull up a chair. Take a taste. Come join us. Life is so endlessly delicious", this book presents itself as a push to get families to engage with one another over meals that everyone appreciates and enjoys.
The Cleaner Plate Club begins with a comprehensive look at why children eat the way they do and how parents can work with this to encourage them to eat a variety of delicious and healthy foods. It aims to equip readers with the skills to be inspired by the local produce at farmer's markets and the knowledge essential to navigating supermarkets, both of which ensure that you are making informed food purchases.
The recipes themselves highlight vegetables, outlining their wide array of nutrients, explaining how to select and store them, followed by a simple and quick recipe like Roasted Asparagus or Cider-Braised Brussels Sprouts. You'll be set up for success with easy, weeknight recipes like Pumpkin-White Cheddar Soup or Lamburgers in pita, which all take less time than relying upon the drive-through window.

The writing and goal of The Cleaner Plate Club is unpretentious; it is simply focused on allowing children to enjoy well-made, home-cooked meals with their family.