Thursday December 04, 2014
Anyone out there remember The Galloping Gourmet's pronunciation of onions? Well, I do.
U-N-Y-O-N-S ….in a long drawl.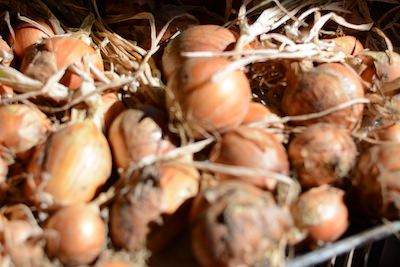 Would it surprise you that whenever I delve into a big pile of onions to peel and chop, I chuckle and belt out. "U-N-Y-O-N-S!"
I cannot live without onions. For me they are the start of 95%, maybe more, of my savory cooking. The aroma of onions sizzling in the sauté pan waft through the air like a lasso that gently captures anyone in the house and brings them to the kitchen exclaiming, "That smells delicious! What are you making?" I always giggle and think to myself, "It's onions! It's always just onions! Don't they know?"
Of course there's the peeling, slicing and the tears. I don't mind the tears. I look at them as part of the cleansing process. Onions get my juices (tears) flowing and somehow I believe it's a good thing.
I put caramelized onions in my meatloaf. I dice up onions for my soffritto. I slice them to adorn a burger. They go in most of my soups, into the cavity of a roasted chicken, in omelets, tuna salad and, as gross as it might sound (but I assure you it is delish), in my cheese and onion sandwiches. I even grow onions in my garden.
When the opportunity to work with the National Onion Association came to me, it was a no brainer. I realized I love onions. I love their look, taste and smell but mostly how they enhance my cooking.
Instead of keeping them hidden beneath the covers as a flavor enhancer, I decided to share a recipe where they are front and center – the perfect side for your holiday meals: Madeira and Maple Syrup Glazed Onions.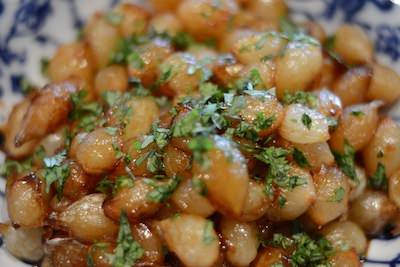 Disclosure: I was compensated by the National Onion Association for this post. All opinions, text and photographs are my own.