Helga Kaiser's Christmas Goose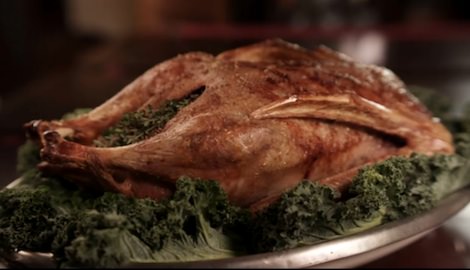 Ingredients
1

Goose washed and dried thoroughly

3-4

carrots, sliced ¼-inch thick

2-3

small onion, chopped coarsely

5-6

celery stalks, cleaned and sliced

1

orange cubed, leave peel on

1

large (or 2 small) apples, cubed

1

onion, chopped

1

handful of thyme sprigs

1-1½ teaspoon

salt (Helga uses a small palm-full)

1 ½ teaspoon

pepper (Helga uses a small palm-full)
Directions
Preheat oven to 350 deg.
Place carrots, onion and celery in bottom of baking pan.
Rub the goose with salt and pepper inside and outside.
Place the orange, apple, onion, thyme in the goose's cavity.
Tie the goose in three places: the back, middle and legs. Make a box knot so you can easily untie it.
Place goose on rack in roasting pan so fat can run off.
Stab the exterior of goose with a fork; this is very important so the fat can drip out and skin becomes crispy.
Add water ½-inch deep to pan. Put in oven for about 3 hours.
Prep time:

30 minutes

Cook time:

3 hours

Total time:

3 1/2 hours
Yield: 8 - 10 servings