Alex Elman's Plum Pudding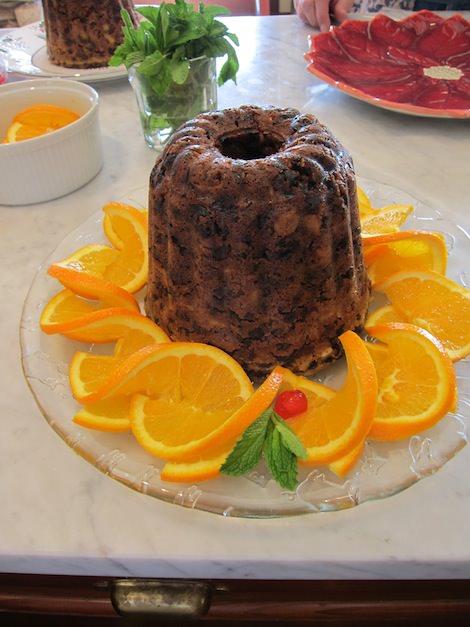 Plum Pudding Ingredients
3/4 cup

almonds

1 1/2 cup

flour

3/4 cup

sugar

3/4 tsp

baking soda

2 1/3 cup

fresh bread crumbs

1/2 tsp

grated nutmeg

1 cup

unsalted butter, softened

3 cups

seedless raisins

1 1/3 cup

black currants

3/4 cup

candied orange peel

3

eggs

1/2 tsp

salt

6 tbsp

rum

milk, enough to mix
Simple Candied Orange Peel Ingredients
2

large oranges, 1/4 inch of top and bottom cut off

4 cups

sugar, divided

3 cups

water
Plum Pudding Directions
Blanch almonds and chop.
Mix all ingredients together adding enough milk to hold dough together.
Place in buttered mold. Cover with buttered wax paper and fix with string or use a mold with a cover.
Place in pan with water (the water should fill the pan); boil on low flame for four hours. Add HOT water whenever necessary
On Christmas day boil again for two hours. If you want to serve the pudding lit, turn plum pudding onto a pan, and pour over a spirit that will catch fire.
Serve hot and if possible with hot brandy butter on the side or simple candied orange peel (recipe below).
Simple Candied Orange Peel Directions
Cut peel on each orange into 4 vertical segments. Remove each segment (including white pith) in 1 piece. Cut into ¼ inch-wide strips.
Cook in large pot of boiling water 15 minutes; drain, rinse, and drain again.
Bring 3 cups sugar and 3 cups water to boil in medium saucepan over medium heat, stirring to dissolve sugar.
Add orange peel, return to boil.
Reduce heat; simmer until peel is very soft, about 45 minutes. Drain.
Toss peel and 1 cup sugar on rimmed baking sheet, separating strips.
Lift peel from sugar and transfer to cookie sheet covered with foil. Let stand until coating is dry, 1 to 2 days. Make ahead, wrap and freeze up to 2 months.
Prep time:

1 hour

Cook time:

2 hours

Total time:

3 hours
Yield: 8-12 servings