Sunday November 13, 2016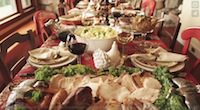 Happy Thanksgiving and Thank you for watching Heirloom Meals Thanksgiving PBS show. Here are all the links to the recipes from the show:
Loring Barnes' Cranberry Stuffed Acorn Squash
Loring Barnes' Baked Chocolate Pudding
Jill Gernon's Green Bean Casserole
Ellie Markovitch's Cheese Bread
Cooper Boone's Cornbread Stuffing
Looking for a great Holiday Gift? Give the gift of LEGACY. Check out the Heirloom Meals Recipe Project.