Jill Gernon's Swiss Green Bean Casserole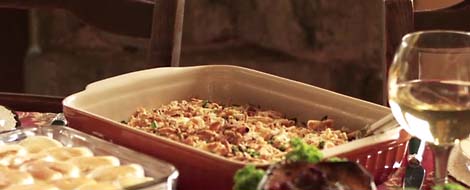 Ingredients
1 can

French's Fried Onions


2 tbsp

butter

2 tbsp

flour

1 1/2 cup

sour cream

1 tsp

salt

1/4 tsp

sugar

1/2 lb

swiss cheese, grated

3 16 oz cans

green beans, drained
Directions
Preheat oven to 400 degrees and grease a casserole dish.

Heat the butter and add your flour to make a roux. Once the flour is incorporated and thickening, turn to low heat and add sour cream.
Then add the salt and sugar to complete the white sauce
Layer green beans with Swiss cheese and two thirds of the fried onions in casserole dish, alternating layers.
Pour white sauce over top. 
Bake 15 min or until bubbly.
Bake 15 min or until bubbly.
Sprinkle remaining fried onions and bake for another 5 min or until onions are golden.
Prep time:

15 minutes

Cook time:

20 minutes

Total time:

35 minutes
Yield: 6- 10 servings