Loring Barnes' Acorn Squash Stuffed with Cranberries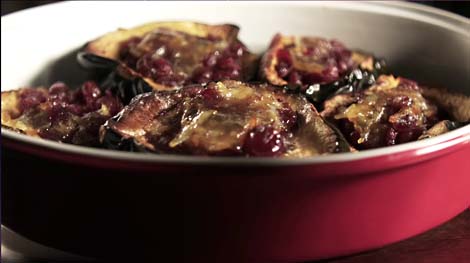 Ingredients:
2 acorn squashes, halved lengthwise and seeded, bottom sliced so it isn't "tippy"
3 T butter
3 T brown sugar
3 T orange marmalade
3/4 cup cranberries, chopped coursely
Instructions:
In buttered baking dish bake squash cut side down in 350 degree oven for 35 minutes. Melt butter, stir in rest of ingredients. Turn squash cut side up, sprinkle with salt, divide cranberry mix among them. Bake 25 minutes or until tender.
Loring's Adaptation
Acorn Squashes-- halved
Fresh cranberries - halved
Grade B (dark amber) maple syrup
Butter
Spices: cinnamon, nutmeg, cloves
Follow instructions above but don't melt butter.