Chadwick Boyd's Chipotle Pumpkin Pie with Candied Ginger Double Crust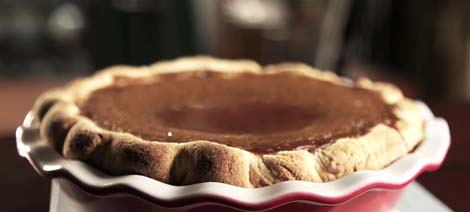 Crust Ingredients:
2 1/2 cups flour
1 tsp salt

2 T sugar
1½ sticks unsalted butter (cold and cut into small cubes)

½ cup shortening

6-8 T ice water

1/3 cup chopped candied ginger
Instructions:
Mix together flour, salt, and sugar. Cut in butter and shortening until its coarse. Add cold water and form ball of dough. (This can also be done in a food processor like we did in the show.) Put in fridge until cold. Roll out dough until just larger than pie plate and 1/3" for the thick crust. Form crust in pie plate and press in ginger bits. Blind bake the crust for 10 minutes.

Pie Filling Ingredients:
2 cups pumpkin

2 cups milk or cream

1 cup brown or granulated sugar (pack brown sugar in cup)

2 eggs
, gently beaten
1 tsp salt

½ tsp ginger

1/2 tsp Allspice
2 tsp cinnamon

½ tsp chipotle powder
Instructions:
Preheat oven to 475 degrees.
Mix pumpkin, milk, sugar, beaten eggs, salt, spices, and heat for two minutes. Pour into pie tin lined with pastry. Place in the 475 degree oven for 15 minutes. Lower heat to 400 degrees and bake 45 minutes or until firm. Keep an eye on the crust - you may want to cover the crust with tin foil to prevent from burning.