Cooper Boone's Blue Ribbon Cornbread Stuffing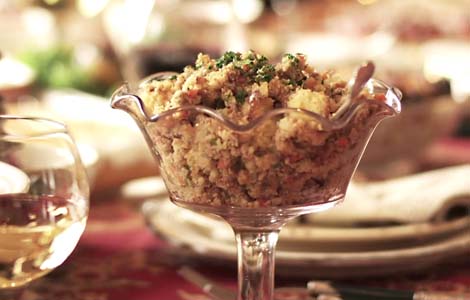 Ingredients
7 cups

corn bread cubes – Cooper's Corn Bread

1/3 cup plus 2 tbsp

olive oil

2 medium

yellow onions, diced

1/2 cup

dried prunes

2 cups

diced apples (Coop uses peeled Granny Smiths)


1 cup

diced carrots


1 cup

diced celery

3

garlic cloves, minced

1 pound

spicy Italian ground sausage


2 cups

chicken stock

salt & pepper to taste
Directions
Preheat oven to 400 degrees. Make Cooper's corn bread muffins.
Make Cooper's corn bread muffins (Recipe below).
Tear apart into approximately one-inch pieces. Place in a large mixing bowl and drizzle 1/3 cup olive oil over bread cubes and toss with hands. Place on a cookie sheet and toast in oven until golden brown. Remove and set aside.
Lower oven temperature to 350 degrees.
Heat remaining olive oil in a large pan on medium heat and cook onions, apples, carrots, celery and garlic until just soft, about 5 to 7 minutes.
In a separate pan, brown sausage until cooked through, about 5 to 7 minutes, breaking it up into pieces with the back of a wooden spoon.
Combine vegetable mixture and sausage in bowl with toasted bread cubes.
Add chicken stock and mix thoroughly.
Season to taste with salt and pepper.
Place in a lightly greased baking dish (9x12 works best) and bake for 20 minutes.
Prep time:

20 minutes

Cook time:

40 minutes

Total time:

1 hour
Yield: 8 servings