Barnes Family Baked Chocolate Pudding & 'Ice Cream' Sauce Topping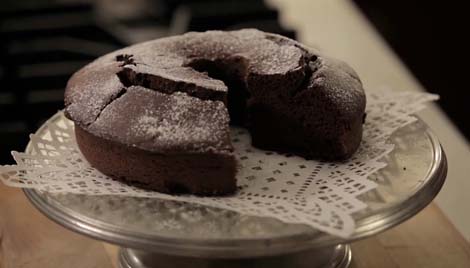 Chocolate Pudding:
Ingredients and Instructions:
In top of double boiler combine:
3 sq. baking chocolate
1/2 cup sugar
1/2 cup milk
Mix and stir until it thickens, remove top from heat, allow to cool.

In large mixing bowl (or Kitchen Aid mixer bowl) combine:
1/2 cup unsalted butter, room temperature/softened
2 eggs, beaten
2 cup flour (I use King Arthur exclusively)
1 t baking soda dissolved in 1T water
1/2 tsp salt
1 cup milk
1 tsp real vanilla
Add the chocolate mixture to above, combine until completely mixed but don't over
beat.

Grease and flour a Bundt or tube pan. (Bundt with flutes is prettiest and defines
your slices).
Pour batter into prepared Bundt pan, bake 1 hour in pre‐heated 325‐degree oven on
middle rack. Cool and remove from pan. The pudding should be kept moist so keep
covered with foil or plastic wrap so it doesn't dry out, but don't wrap so tight so that
you the baked pudding sticks to your wrap. A Tupperware cake container is fine,
but I still wrap it a bit within that storage.
''Ice Cream' Sauce
Ingredients:
1 1/2 c sugar
2/3 c melted unsalted butter (warm not blazing hot so it won't "cook" the egg)
2 eggs, beaten
1/4 t salt
tsp real vanilla
2 c fresh cream, whipped
Instructions:
In large mixing bowl (or Kitchen Aid) blend ingredients together, pouring in sugar
and butter so that the warm (not hot) butter will somewhat dissolve the sugar
during the blending. Refrigerate until serving. (I have added a 1/2 shot of Gran
Marnier but this is optional).
Serve baked pudding gently warmed in low temp oven. I dust with confectioners
sugar on the plate but this is optional. Slice, generously dollop with the hard sauce.
Enjoy!