Saturday September 12, 2015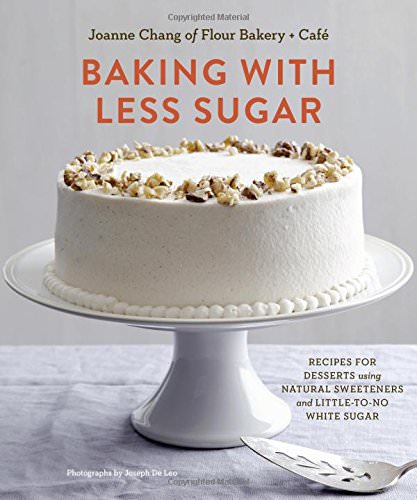 Baking with Less Sugar: Recipes for Desserts Using Natural Sweeteners and Little-to-No White Sugar
The ingenuity and expertise of Joanne Chang, owner and pastry chef at Flour Bakery + Café, gets put on display in her third cookbook, Baking with Less Sugar. In America, we've come to depend upon sugar to bring flavor to our sweetened creations, but this reliance has only resulted in deadened taste buds and the masking of other ingredients. Chang sees this need to alter our cravings and has created a collection of recipes which challenge our palates to search for flavor elsewhere.
Chang starts her book by addressing the obvious disputes to this baking philosophy, saying that 1) "Life is sweet" and 2) "I sell sugar". It's true that owning a bakery, distributing innumerable confections daily, leaves Chang somewhat guilty for contributing to our sugar craze. However, she confronts this issue by explaining her own epiphany that baked goods can be sweet, and made more interesting, by substituting other ingredients for sugar - whether it be honey, maple syrup, or fruit purées. She believes that we negate the potential flavor of a cookie if we focus solely on making it sweet - it can be nutty, smoky, salty, anything on the spectrum of flavor. This introduction to her succeeding recipes has the reader excited for all of the new discoveries to be made outside of sugar's constraints.
It's hard to imagine a fruit pie without loads of sugar to make its filling sickeningly-sweet. Chang, however, is a strong believer in allowing the natural flavors of ingredients take center stage. She uses the built-in sweetness of the fruit in her Blueberry Nectarine Pie to make only 4 tablespoons of sugar all that is necessary for the jammy and luscious pastry. She pairs this with her Double-Crust Pie Dough, allowing the juicy berries to mix beautifully with its flaky texture.
Chocolate is certainly not without its own dose of sweetness, but by depending only on the sugar content of bittersweet chocolate in her Double Chocolate Whoopie Pies, she is able to significantly reduce the added amount from its traditional equivalent. Crème fraîche contributes a certain tangy bite, drawing the pies away from potential chocolate overload.
I love Chang's use of maple syrup as a sugar substitute in her Sticky Toffee Pudding, a vegan alternative to honey. She outlines the traditional version she makes with "loads of brown sugar", a comforting option during the colder months. However, she says that in this adaptation, the maple syrup complements the dates' deep flavor instead of obscuring them in mountains of sugar as too many recipes often do. The dessert is a great example of how using natural sweeteners results in a greater complexity of flavor.

Baking with Less Sugar is not another cookbook focused only on making desserts with fewer calories. Joanne Chang seeks out alternatives for sugar so that she can experiment with other ingredients and develop recipes that taste how we expect them to, while still retaining an element of mystery in their subtle nuances of flavor. The result is healthy, delicious, and nonetheless sweet.