Saturday August 22, 2015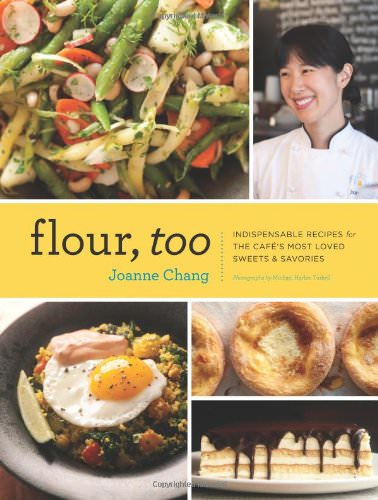 Flour, Too: Indispensable Recipes for the Cafe's Most Loved Sweets & Savories
We all have that favorite spot -- the breakfast place around the corner, the coffee shop up the street, the bakery with the awe-inspiring case of baked goods staring back at you. Joanne Chang's Flour Bakery + Café in Boston is all of these, but it has established itself beyond sweets and breakfast confections alone. Flour, Too is Chang's second cookbook, following the success of her first, Flour. Though recipes categorized under "Sweets" and "Desserts" dominate its pages, the cookbook spreads its focus to the savory as well. With recipes like the Classic Split Green Pea with Smoked Ham soup or the Mushroom and Leek Lasagna with Creamy Béchamel, you quickly gain the sense that Chang isn't trying to overwhelm your sweet tooth, but rather provide you with the comfort and nourishment of food.
You can mimic the most loyal of Flour's customers and use the book to follow the daily experience of the bakery. Start with a stack of CJ's Spiced Banana Pancakes, which are perfectly moist and not overly-sweet from the natural flavorings of the fruit and are matched with the underlying smokiness of allspice and black pepper. A drizzle of maple syrup as the accompanying image suggests is all you need to make resisting these fluffy delicacies impossible. You can take the savory route for lunch with an updated American classic -- the Applewood Smoked BLT. Chang complements the salty-sweet bacon with the added pepperiness of the arugula. Dinner can become a more complex affair, beginning with the colorful Heirloom Tomato Salad, stepped up with feta, watermelon, and a delicious Red Wine Vinaigrette. The main dish options include a Slow-Baked Atlantic Salmon with Tabouli, whose inventive cooking method gives the fish, as Chang puts it, "a delicate, buttery texture and flavor." End the evening just as you began, with a small, two-bite French Macaron. Crisp and light, satisfyingly sweet.

Flour, Too invites us to sample a sugar-specked brioche and instills a desire to test the elasticity of Chang's focaccia dough. Every page is a representation of the ease and contentment enjoyed in passing the time at one of the Flour locations. Use the book to bring to your kitchen the iconic smells and tastes of the bakery -- a place many people already consider home.